We are lucky to live in Washington, surrounded by mountain ranges and beautiful greenery. Did you know that Seattle has ranked third for hiking among 75 metro areas in the United States? In the last five years, the annual sales of the Discover Pass has increased 55 percent.
June was Great Outdoors Month, and at Petett Chiropractic, we took time out of our busy schedules to explore all types of recreational activities in the Cascades. While hiking and camping is easy and accessible almost anywhere, we are sharing our top three favorite things to do in the Cascades for you to try out.
Canoe the Skagit River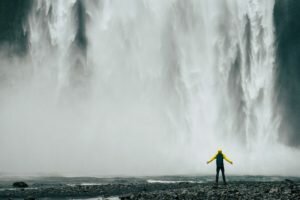 The Skagit River is Washington's largest river, flowing 150 miles from high in the Cascade Mountains to the Puget Sound. It is a paddler's dream with 85 miles of water that can easily be navigated by canoe or kayak. Paddlers have the chance to experience the rushing mountain stream through canyons all the way to a powerful, winding river traversing farmland.
If you start your journey at Copper Creek, you'll experience gentle rapids and only need basic paddling skills. As you make your way down the river, keep your eyes peeled for eagles, salmon and river otters. Canoeing down the Skagit River is a wonderful day trip, or make it an overnight adventure by taking advantage of one of the many options to camp along the way.
Take the Scenic Drive through Route 20
Surrounded by the North Cascades, Route 20 is one of the most scenic drives in Washington. There are plenty of scenic overlooks along the way. A must-stop roadside attraction is Diablo Lake Overlook. Right off the highway with ample parking, this stop looks out over the lake for a spectacular view. When the sun is shining, the waters look emerald-green. There is a large picnic area where you can sit and enjoy lunch with the family. Bring your camera because this is a destination that you'll want to remember.
Rock Climbing Liberty Bell Mountain
The Cascades offer a mind-blowing array of mountaineering opportunities. Whether you are looking for a prime rock climbing route or for a variety of ice and boulders, there is a climb for you. Resources such as the Mountain Project have forms where you can input the type of climb you are looking for, terrain level and your skill level, and they'll suggest different routes for you to explore.
One of our favorite routes that we recommend is Liberty Bell Mountain. With 18 established climbing routes, any type of climber can experience this beautiful journey. It's even listed as one of The 50 Classic Climbs of North America. The approach hike is roughly a mile from Highway 20.
Schedule an Appointment at Petett Chiropractic
Summer is the perfect time to get out and explore the outdoors. Through routine checkups, your chiropractor will be able to make sure that your body is in alignment. Chiropractic care will improve your flexibility and range of motion, enabling you to fully enjoy your summer adventures!
Don't allow an injury to prevent you from experiencing the beautiful Pacific Northwest. Regular visits with your chiropractor at Petett Chiropractic can assist your performance and help your body work more efficiently. Please call (425) 277-2225 to schedule an appointment with one of our trained and experienced chiropractic doctors. We're conveniently located about thirty minutes from Seattle.